I'm so thrilled to be apart of today's cover reveal for Sophie Jordan's TEASE, book #2 in her The Ivy Chronicles series. I loved book #1 in this series, Foreplay, which was released this past year. Check out the cover to TEASE, which hits shelves on May 27th, 2014!!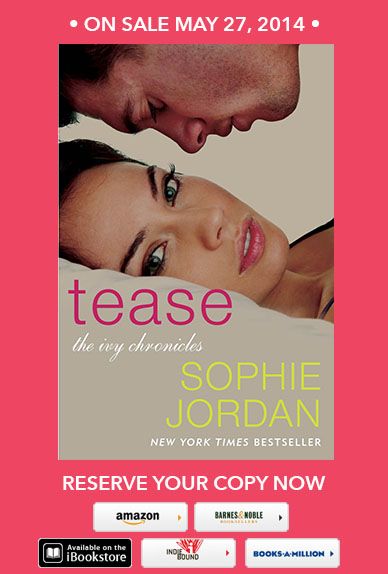 HELLO sexy cover! It's the perfect match to Foreplay's cover. I can't wait to read about Emerson & Ethan. Judging from the cover, I'm going to guess that these two will ignite the pages with their hot chemistry. Really, I wouldn't excerpt anything less than some good ole, Sophie Jordan sizzling character chemistry from this book.
About the Book
What happens when a girl who always call the shots meets a guy who's too wild even for her?
A born flirt and good-time party girl, Emerson has never had a problem finding a willing guy. She's always chosen her hook-ups carefully, and she's never broken her three cardinal rules:
Never let them see the real you.
Never fall in love.
Always leave them begging for more.
Then comes Shaw. A hottie from the wrong side of the tracks, he's immune to her flirtatious banter and come-hither smile. After rescuing her from a disastrous night at a biker bar, he doesn't even try to take her to bed—he calls her a tease and sends her home instead. Unable to resist a challenge, or forget the sexy dark-eyed bad-boy biker, she vows to bring him to his knees.
But instead of making Shaw beg, she finds herself craving him. For the first time in her life, she's throwing out her rulebook. Suddenly, she's the one panting for a guy she can't control. A guy who won't settle for anything less than the real Emerson, who forces her to do things she's never imagined, including facing a past she thought she'd buried.
Tease sounds like the perfect kind of Mundie Moms guilty pleasures read. I'm a huge fan of Sophie Jordan's. I love the way she writes her characters and their chemistry. This is one guilty pleasures read I can't wait to get my hands on.